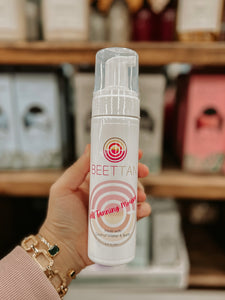 Beettan
Beettan Tanning Mousse
Regular price
$32.99
$0.00
A lightweight dark self tanning mousse made with real coconut water and our famous  BEET tanning ingredient that delivers a deep, dark tan with a healthy glow! Coconut water works as a natural toner, hydrating the skin without leaving it feeling oily or tacky. Easy to apply for flawless results!
How to Apply:
Step 1: Apply to dry, freshly cleansed, lightly exfoliated skin with our Application Mitt using long, sweeping circular motions. Smooth on evenly and blend thoroughly. Use sparingly around knuckles, knees, ankles and elbows.
Step 2: Leave on for up to 8 hours. Shower in lukewarm water. Do not use soaps or scrubs.
Step 3: Your tan will continue to develop over the next 8 hours. Use a moisturizer or Gradual Tan Mousse daily to prolong and maintain your tan.
---
More from this collection